Meet the digital artists taking over iconic billboards with Porsche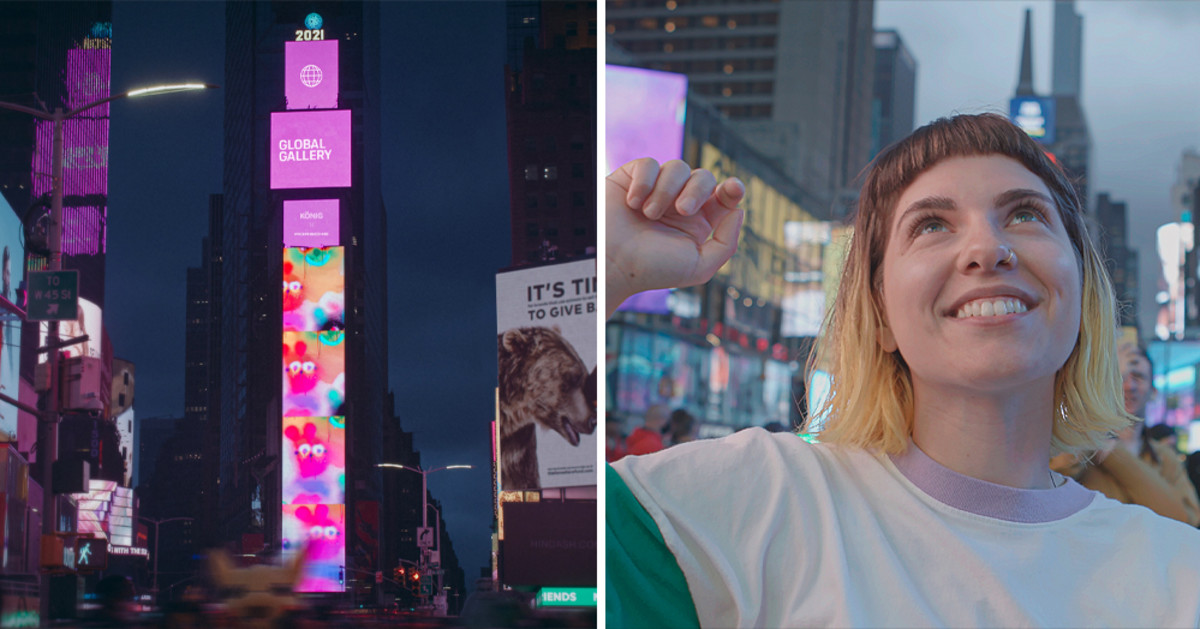 Porsche is giving a new generation of innovative digital artists the chance to realize their dreams, setting up their forward-looking work in some of the most iconic and busiest places in the world today.
In partnership with KÖNIG GALERIE (known for representing and exhibiting a roster of cutting-edge international artists), the Global Gallery takes over the world's most famous billboards with art for eight weeks. From Times Square in New York to the legendary Shibuya Crossing in Tokyo, this moment has already been a game-changer for these artists, as their work continues to be seen by more people than ever before.
The Global Gallery is the latest chapter of Porsche's Dreamers. At.' initiative, which helps people achieve their wildest dreams. It's a philosophy that's been present in the company since its inception over 70 years ago, and goes back to the company's founder, Ferry Porsche, who couldn't find the car he was dreaming of and so decided to build it himself.
As Porsche sets up the new wave of digital artists to reach new heights, we wanted to take you a step further and profile the visionaries taking over billboards from New York to Tokyo. Get to know the digital artists who are making their dreams come true, below.
All works are also purchasable as open NFTs – accessible via QR codes on digital billboards or misa.art directly – for prices from €100, available until December 7, 2021.
Visit misa.art/gg to learn more about the Global Gallery presented by Porsche and curated by KÖNIG.
Andy Picci
Born in Switzerland, Andy Picci's abstract work is inspired by themes of celebrity, social media and the deeper quest for self-identity. Picci's work presents a critical look at the torments of a contemporary culture dominated by social media.
Auriea Harvey
Auriea Harvey's work combines digital and physical processes to create sculptures that bridge physical space and mixed reality. With an extensive background in video games, his sculptures feature characteristics and narratives that live naturally in the digital age. Harvey also uses her work to trace her African-American diasporic lineage.
Banz and Bowinkel
Giulia Bowinkel and Friedemann Banz have worked together as Banz & Bowinkel since 2009. The duo began creating digital art in 2007 after graduating from Kunstakademie Düsseldorf and now work in a wide range of styles including animation, augmented reality, virtual realities and installations.
Ben Elliot
Ben Elliot uses his art to address issues facing the modern world, including emerging technologies, influencer marketing, and socio-economic trends. Proud of a strong identity and storytelling, Elliot has partnered with some of the biggest digital brands and mobile apps on the planet to put its own mark on the digital world.
John Yui
John Yuyi is a Taiwanese visual artist based in New York. Social media forms the premise and platform for her creative work, in which she reflects on her own emotions, her bipolar disorder, the meaning of a modern society as observed on a daily basis, and the emotions of others. She is best known for her work in the field of temporary tattoos.
Jon Burgerman
Jon Burgerman's colorful and positive works focus on creative play as a means of communication. For Burgerman, art is an escape, not only from the outside world but also from his inner anxieties. The bright colors provide an alternative space for her inner existence, while her playful characters provide both companionship and opportunity for reflection.
Jonas Lund
Jonas Lund's work spans paintings, sculptures, photographs, websites and performances that offer a critical perspective on the power structures that control the modern world. Lund demonstrated his acumen in 2018 by launching the Jonas Lund Token (JLT), a cryptocurrency that gives investors the ability to shape its artistic direction. As Lund's career path and market value grows, so does the value of a JLT.
kennedy+swan
kennedy+swan creates art that comments on the future of evolution, imagining a world 1,000 years in the future where so-called hybrids will develop – beings that are part plant, part animal and part human. They bring their characters to life through virtual reality, augmented reality, 3D scans and motion capture, allowing audiences to immerse themselves in their worlds.
Manuel Rossner
Manuel Rossner began designing digital spaces and virtual worlds in 2012, and uses them to study the impact of new technologies on art and society. His interactive architectures are composed of digital materials that represent both spatial interventions and virtual extensions.
Junuwana
The artist and architect duo JUNUWANA designs virtual architectures in the digital domain and invites its public to live in a virtual world. By sharing time-based architectural spaces with people in the digital public domain, artists wonder how the realm of art and architecture could be extended into digital space, where gravity no longer exists. .
Nicole Ruggiero
Nicole Ruggiero is a 3D artist who creates works based on internet culture. More recently, his art has explored important issues such as digital identity, nostalgia, online romance and sexuality, internet subcultures, virality and meme humor. She presents these themes through 3D figures, internet relics and online iconography, blurring the line between virtual and real.
Visit misa.art/gg to learn more about the Global Gallery presented by Porsche and curated by KÖNIG.